This Low Carb Roasted Broccoli is a simple side dish that tastes amazing! Sliced into thicker "steaks" and cooked with garlic, parmesan, a touch of red pepper flakes (optional of course)…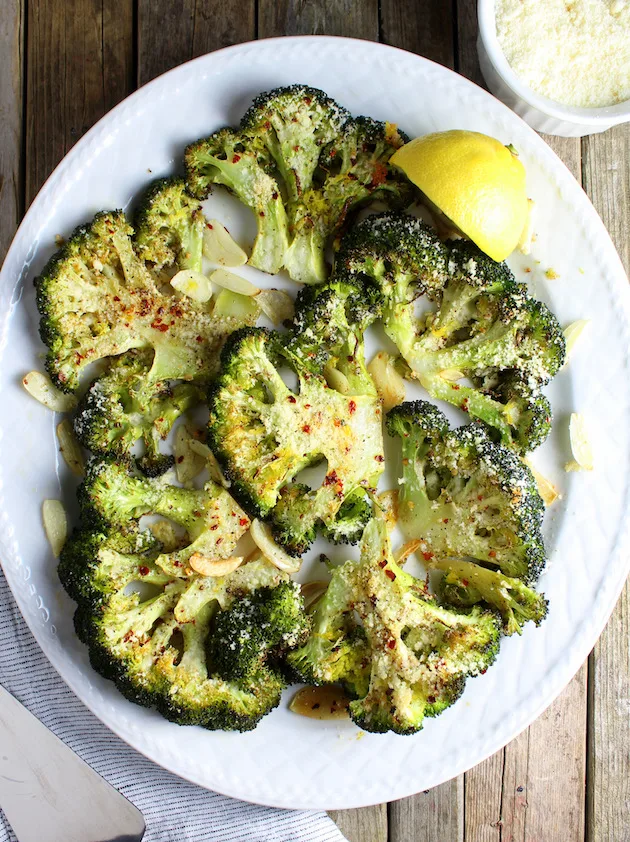 This recipe takes the "boring" out of broccoli. You may never steam broccoli again.
How to cook roasted broccoli:
Cut the broccoli into one-inch thick "steaks"
Season with salt, pepper, & chili pepper flakes and toss gently with some olive oil.
Bake for about 10 minutes, add thinly sliced garlic cloves, and then roast for 6 more minutes.
Sprinkle the broccoli with grated Parmesan cheese and continue cooking for about 2 more minutes.
Garnish with lemon zest (this step is optional)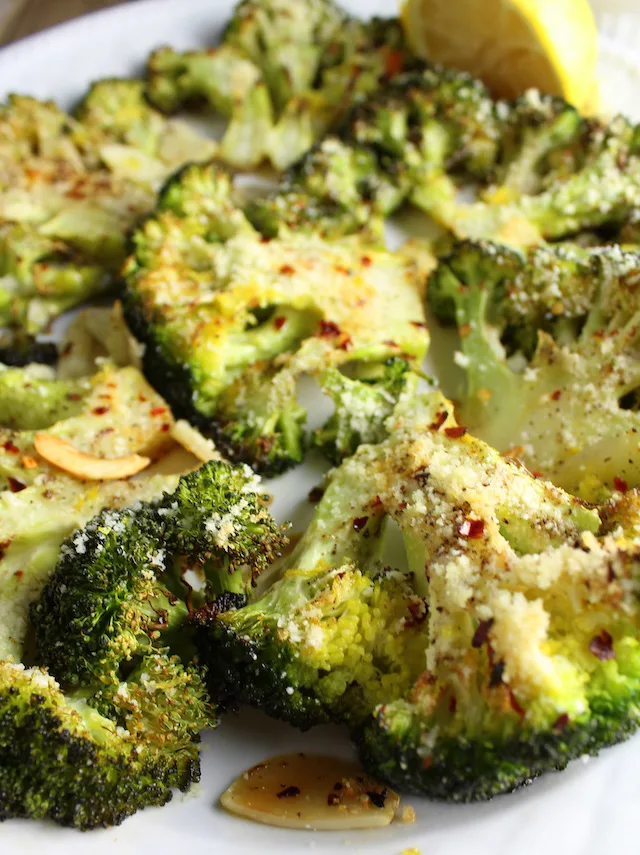 A few questions we always get about this simple roasted broccoli recipe:
Does broccoli have protein?
Does it ever! At around 4g of protein per cup, it's in the top 10 for veggies that offer a good protein:calorie ratio. However you're probably not going to get your full RDA of protein just from broccoli… that would take around 20 cups.
How many carbs in broccoli?
A cup of broccoli averages between 4-6 grams net carbs per serving. Broccoli is non-starchy, all you keto people can eat it without worrying about throwing yourself out of ketosis. Dark, leafy vegetables like broccoli are another staple of the ketogenic lifestyle… so yes, you can have keto broccoli. 😊
How long does roasted broccoli last?
After cooking, broccoli stored in the fridge in an airtight container will last up to 3-5 days. If you want to freeze it instead, it can last up to 10 months in an airtight freezer bag before it will start to lose its flavor.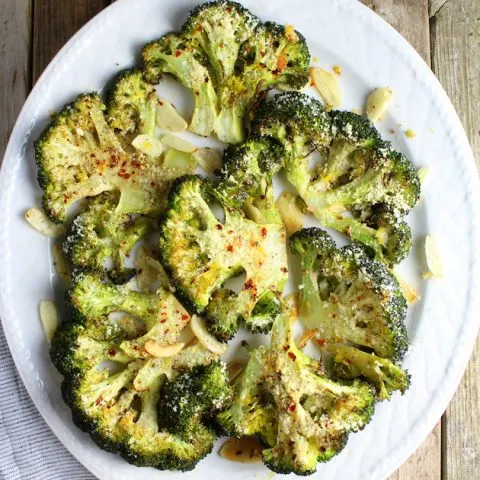 Low Carb Roasted Broccoli with Parmesan
Low Carb Roasted Broccoli with Parmesan and Garlic – a
quick and easy, flavorful low carb side dish that is ready in 20 minutes – with just 7 ingredients.
Ingredients
1 large head of bdroccoli sliced into 1-inch thick steaks
1 teaspoon salt and pepper
Red pepper flakes
3-4 tablespoons olive oil
4 cloves garlic, thinly sliced
2 tablespoons parmesan
Lemon zest from half a lemon
Instructions
Preheat oven to 425 degrees F.
Add sliced broccoli to a parchment paper-lined baking sheet.
Sprinkle with salt, pepper, red pepper flakes, and olive oil, then toss gently.
Roast for 10 minutes, add the sliced garlic to the pan, and return to the oven.
Bake 6 more minutes, then sprinkle with parmesan and bake for 2 more minutes.
Remove from the oven, dust with lemon zest and enjoy!
Nutrition Information
Yield

8
Serving Size

4 ounces
Amount Per Serving
Calories

160
Total Fat

12g
Saturated Fat

3g
Trans Fat

0g
Unsaturated Fat

8g
Cholesterol

28mg
Sodium

202mg
Carbohydrates

4g
Net Carbohydrates

2g
Fiber

2g
Sugar

1g
Protein

4g
This nutrition card uses an estimate provided by an online nutrition calculator. This estimate is not a substitute for a professional nutritionist's advice!
More low carb side dish recipes…
---