These Low Carb Garlic Parmesan Wings are super moist and coated with the perfect crispy layer of garlic, Parmesan cheese, and parsley!
Pressure cooked wings stay perfectly tender thanks to the Instant Pot… A great alternative to buffalo wings for people don't like spicy wings!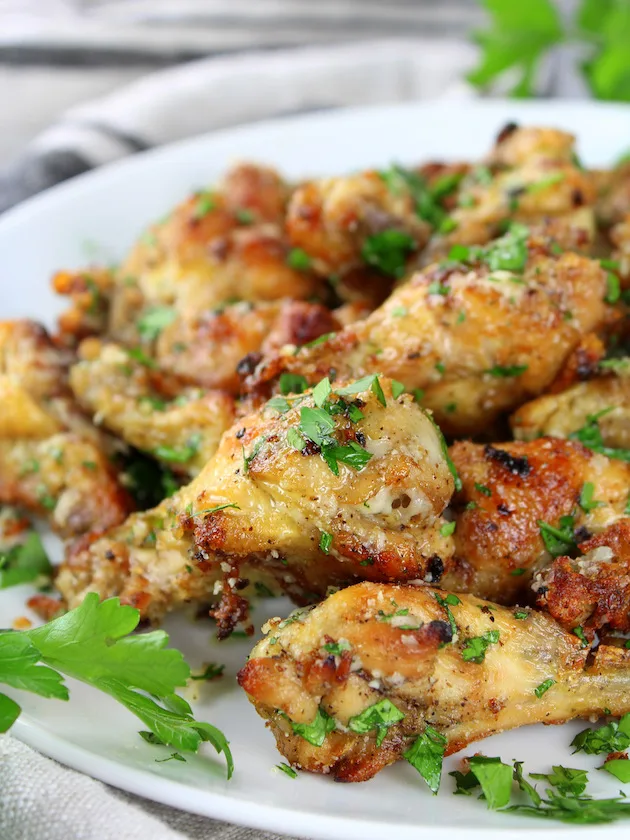 We're proud to say that we've tried and perfected this method of cooking chicken wings in the instant pot! You are going to love this recipe.
In fact we'll be sharing several other flavors of IP wings that have worked fantastically well using this method: super hot buffalo wings, sweet and spicy buffalo wings, and the list goes on. More on that later!
How To Make Garlic Parmesan Wings:
Toss the wings in garlic powder, onion powder, & salt
Pressure cook in a cup of water on high, for 6 minutes
Manually release IP pressure, then toss the wings in melted butter, olive oil, garlic, & salt
Bake skin-side down on a parchment lined baking sheet for 8 minutes, then broil for 2-3 minutes keeping a close eye on them
Finish by tossing the wings in Parmesan cheese, salt, & parsley while they are hot.
I can assure you these garlic parmesan chicken wings will be gone in 60 seconds. They are super tasty and the perfect meaty appetizers!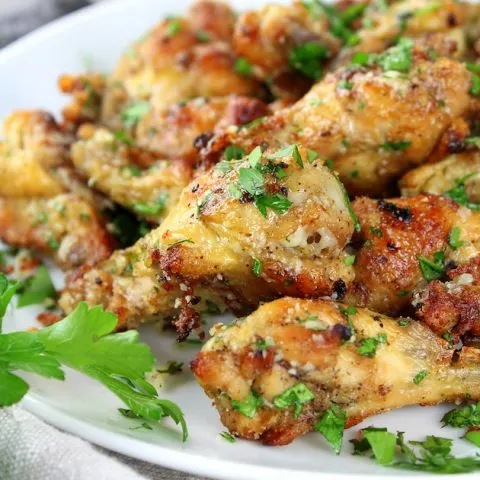 Low Carb Garlic Parmesan Chicken Wings (Instant Pot)
Pressurizing TIme:
15 minutes
Low Carb Garlic Parmesan Chicken Wings in the Instant Pot: infused with savory cheesy flavor without the mess of frying!
Ingredients
Before Pressure Cooking
3 pounds chicken drumettes/wings (whichever you prefer) *See Note
1 teaspoon garlic powder
1 teaspoon onion powder
1 teaspoon salt
1 teaspoon pepper
1 cup water
After Pressure Cooking Before Baking:
5 large garlic cloves, minced
2 tablespoons butter
2 tablespoons olive oil
½ teaspoon salt
Before Serving:
1/3 cup Parmesan cheese
½ teaspoon salt
2 tablespoons parsley (optional)
Instructions
Add the drumettes to a large mixing bowl and toss with garlic powder, onion powder and 1 teaspoon salt and pepper.
Place a cup of water in the bottom of the Instant Pot, then place the trivet in the bottom of the Instant Pot. Add the chicken wings, seal the lid, and pressure cook on high pressure 6 minutes (the IP will take 15-17 minutes to come to pressure). Meanwhile, move your oven rack to the middle position and preheat the oven to 525 degrees F.
When pressure cooking is complete, carefully do a Quick Release of the pressure. It normally takes 2-3 minutes to release pressure.
Remove wings from the IP and place in a large bowl. Add the melted butter, olive oil, minced garlic, and salt to a small bowl and stir together. Pour over cooked chicken wings and toss.
Place the chicken wings skin-side down on a parchment-lined baking sheet, and bake for 8 minutes. Then broil 2-3 more minutes without opening the oven.
Remove the wings from the oven and toss with parmesan cheese, salt and parsley while still hot. Serve and enjoy.
Notes
If you use whole wings and plan to cut off the tips you will have less meat than if you used drumettes. So if using whole wings, purchase 4 pounds, and if you're only using drumettes, purchase 3 pounds.
Nutrition Information
Yield

12
Serving Size

1
Amount Per Serving
Calories

431
Total Fat

33g
Saturated Fat

12g
Trans Fat

0g
Unsaturated Fat

18g
Cholesterol

102mg
Sodium

873mg
Carbohydrates

10g
Fiber

1g
Sugar

0g
Protein

21g
This nutrition card uses an estimate provided by an online nutrition calculator. This estimate is not a substitute for a professional nutritionist's advice!
Parmesan Chicken Wings are perfect as the star of the meal or served as an appetizer. Either way, they're always a crowd-pleaser!
I like using chicken drumettes for this recipe for two reasons… they seem to have a bit more meat on them, and there's no work involved to cut up the wings.
If you decide to use whole wings, cut off the tips with sharp kitchen sheers or a knife. The tips take up room and don't have any meat on them so it's not necessary to use them. (I do like to save them and make stock out of them later.) Next, separate the drumettes and the flat part of the wing. I find bending them backwards at the joint then using a sharp knife to separate them works well.
Our latest low carb recipes…